This story does not appear in Till Victory, I share it with you as a "little bonus" for the readers, and as a sneak preview for those who want to get an idea of the type of content they can find in the book. Please note that my mother tongue is French, and that several errors may be present in this self-made translation... The English version of the book will be proofread by a professional English-language editor.

Major Nigel Harold Scott Hambro
220 Battery, 55th Anti-Tank Regiment, 49th (West Riding) Division
Nigel was born on 18 January 1915 into a banking family of Danish origin (founder of Hambros Bank). He lived his early days at Milton Abbey in Dorset, which was the old family home back then, acquired by merchant banker Carl Joachim Hambro in 1852. Military traditions run deep in the family - Nigel's nephew Sir Charles Jocelyn Hambro, for instance, would be head of the SOE (Special Operations Executive, the British secret service organization in charge of espionage, sabotage and reconnaissance in occupied Europe to support the Resistance). As the son of Lt.-Col. Harold Everard Hambro, an officer in the Royal Artillery, Nigel joined the Army as well and rose through the ranks, from 2nd Lieutenant in april 1938 to Major in september 1943.
When he landed in France, Major Nigel Hambro was a 29-year-old British officer commanding an anti-tank battery attached to the 49th (West Riding) Infantry Division. Shiped out of Gorleston (Norfolk County), he set foot in Normandy a week after D-Day on June 13, 1944. His first major engagement took place a few miles east of Tilly-sur-Seulles, during Operation Epsom, one of General Montgomery's many attempts to capture Caen. The fighting of his regiment at Fontenay-le-Pesnel and Rauray ("Operation Martlet" from 25 to 27 June) was particularly violent, with the British undergoing murderous counterattacks by two formidable armoured divisions: the Panzer-Lehr and the 12. SS-Panzer Division "Hitlerjugend". They were finally repelled with even greater losses on the German side. Soon, Nazi propaganda would dub the division "The Polar Bear Butchers" in reference to its shoulder patch, a polar bear (a souvenir of its time spent in Iceland from 1940 to 1942).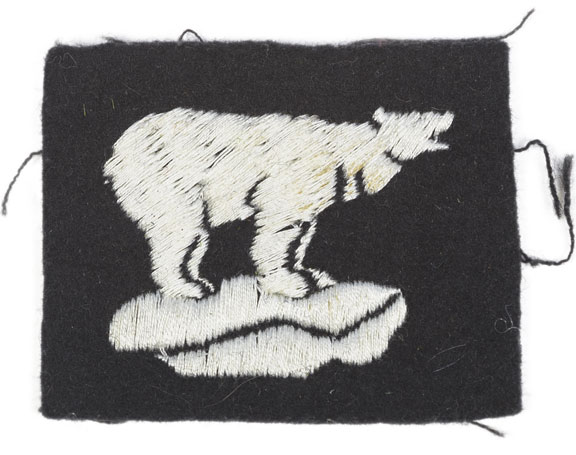 On July 4, a few days after this first major battle, Nigel writes to his father, a retired Lieutenant-Colonel. With a typically British reserve, he says nothing about the battle that has just taken place, although many of his men were killed in Fontenay: " Thank you for your letter. I got the coffee yesterday and had the first cup last night and by jove it was good too instead of the austere tea milk and sugar all mixed in one that to make it all you have to do is apply hot water. It's hot bad stuff but one gets very fed up with it after a bit and the coffee was a very welcome change I can assure you. Besides that it was the first night all officers in the Battery had been together for a week since we arrived in France over 3 weeks ago. At the moment I am feeling very tired and am in need of a good rest for a couple of days but I cannot see it coming off yet. We are all the same at the moment, slightly bad-tempered and irascible but perhaps if we get a fine day it will cheer us up. It rains here every day for 3 or 4 hours so our blankets and clothes are all damp and we can't get them dry. Luckily I have been able to install my HQ in a farm where we have been now for very nearly a week so things are sorting themselves out a bit. [...] There is nothing startling to report here, [the German] is just using his mortars at the moment and we're replying with field guns. On our last push we found a few mines, these were the first we had come accross, also boob-trapped dead, but not many of either. My men have become very cautious. In England we used to try and teach them about booby traps, and apparently our teaching sank in. I went to one of my new gun positions the other day and found the boy in a ditch 20 yards short of the gun position that we had been told to take up. I asked him what the hell he thought he was up to and he showed me a piece of string that he was pulling. On the other end there was a boot. Apparently on the site close by here he had found a new pair of boots so he had tied a long piece of string withdrawn 20 yards and pulled quite correctly but I think he was far too over cautious. But it pleased me to see him so, as long as they remains like that I shan't lose any by booby traps."
In mid-July, the 49th Division takes part in the second battle of the Odon, aimed at diverting as many enemy tanks as possible from the east of the Orne, where a decisive battle for the capture of Caen would soon take place: Operation Goodwood. Nigel's battery remains in the vicinity of Rauray, then rests for a few days on July 19 in Carcagny (southeast of Bayeux). Two days later, Nigel writes from his command vehicle: "It's a long time since I wrote to you but honestly there have not been any bits of news to tell you for the last 10 days or so, we have just been going on fairly steady. Our Div has not been doing any of the spectacular things, but has been doing the ground work chiefly. I myself have been fairly busy, as we have been committed fairly heavily, but pulled out for a well earned rest on Tuesday of this week, and had two lovely days....It started to rain, and by jove I have never seen rain like it in my life. Anyway, we are walking about in mud up to our ankles, but it's stopped, thank goodness.

2215 Hrs. I am writing this letter in my mobile office, a 15 cwt truck, smoking a very good cigar and a glass of brandy at my side. (...) We get one bottle per officer a month of whiskey or gin and one bottle of beer per week. The brandy we only get out of German dugouts and you have to be in the first two in them to get any. We had a bit of luck about a week ago in capturing an officer's mess. We rather took them by surprise, because when one of my Subs, called Robertson, who is one of the best officers I ever wish to meet, went on an exploration just after we got on the objective he came accross this dugout with lunch laid and hot, furnished, with the wireless still playing, but the birds had flown. I was no. 2 in after him about 10 mins later, and it was a wonderful sight. Chippendale chairs and table, cut glass on the table, brandy, champagne, and white wine on the side board. Linen sheets hanging on the wall, and silver cutlery. All we too was the brandy and burgundy, which I forgot to mention, and left the rest [...] but that was a long time ago and our stock is running out, so shortly we shall have to rush another dugout and get some more [...]. So officer's dugouts are quickly sought, I can tell you.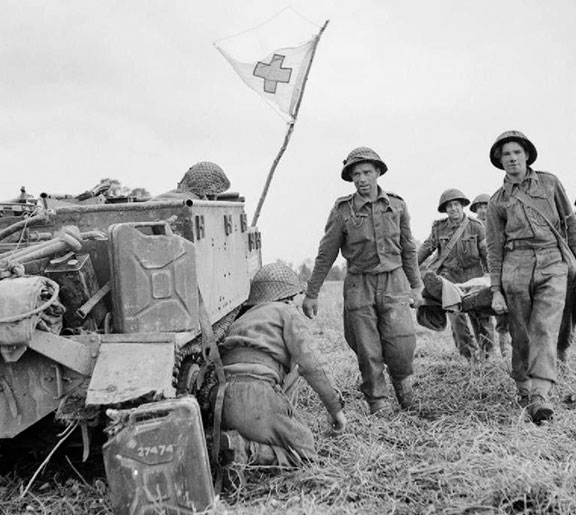 The German is a terrible person. He never buries his dead by any chance or ours for that matter, never has any sort of sanitation plan, and bar for the officers look as if they live like pigs. The officers live on loot by looks of things, and they certainly know how to loot. We live fairly well, Compo packs is all tined food and once a day we slice one bar of chocolate and 7 cigs for the men are entrenching well on it and in the best of form, although all of them have been through hell. There is hardly a man in my battery who has not lost something through Jerry mortars. He has what the troops call 'Sobbing Sisters' or 'Moaning Minnie'. That is his 6 barrel 21 cm mortar [The "Nebelwerfer 42", with a range of nearly 5 miles] that you can hear coming for a hell of a way, and it's most disconcerting. As one sergeant of mine said, once you hear it coming you can smoke a cigarette and then get in your trench, but it's not quite as slow as that and its effect on the floor is tremendous. You have got to have a cover over slit trench and a deep one too. We have learned that you never put a slit trench near a high tree because should he hit the tree all the shrapnel comes straight down, and that's your lot. 95% of my casualties have been caused by his mortars so far, but he is using his air force a little more now, mostly at night, and then only hit and run raids over the forward areas. [...] All my officers and men are very fit and well. Only waiting for the next move to the front, which will come only too quick, I expect. My personal bag of Germans is still two only, but that's two more than some people. And we still have to fire on our first tank, although we have been in the line over 5 weeks in all."
Four days after this letter, the division leaves XXX Corps for I Corps (1st Canadian Army), protecting its left flank as it advances towards Falaise. The Allies entrap the debris of 28 German divisions in "the pocket" between Flers, Falaise, Chambois and Argentan. Although many Germans manage to escape to the north, the Wehrmacht loses more than 100,000 killed, wounded and prisoners on 21 August, marking the end of the Battle of Normandy. Rushing towards Paris, capturing thousands of Germans on the way, the 49th British Division reaches the Seine River at the end of August. On the 24th, Nigel writes: I suppose we are still in parts of France you know well but by looks of things you will have shortly to turn your map over to the other side of the Seine. We have got out of the mosquitos infested areas thank goodness so the nights are more or less peace once again, but we have now got the rain to contend with. [...] Again we have done nothing ourselves of any interest as we have not been called in ourselves and do a lot in the past week, but have rather followed on and had a more or less easy time. I had the good fortune to be among the first in a small town the other day and experience myself the thrill, because it is a thrill of having flowers thrown at and women waving and girls blowing kisses as one goes through, one feels a hell of a jitters (very bad for one) and come to earth abruptly a few miles in when a mortar lands quite close. My battery had a most extraordinary collection of flowers that night and some were given bottles of wine as well."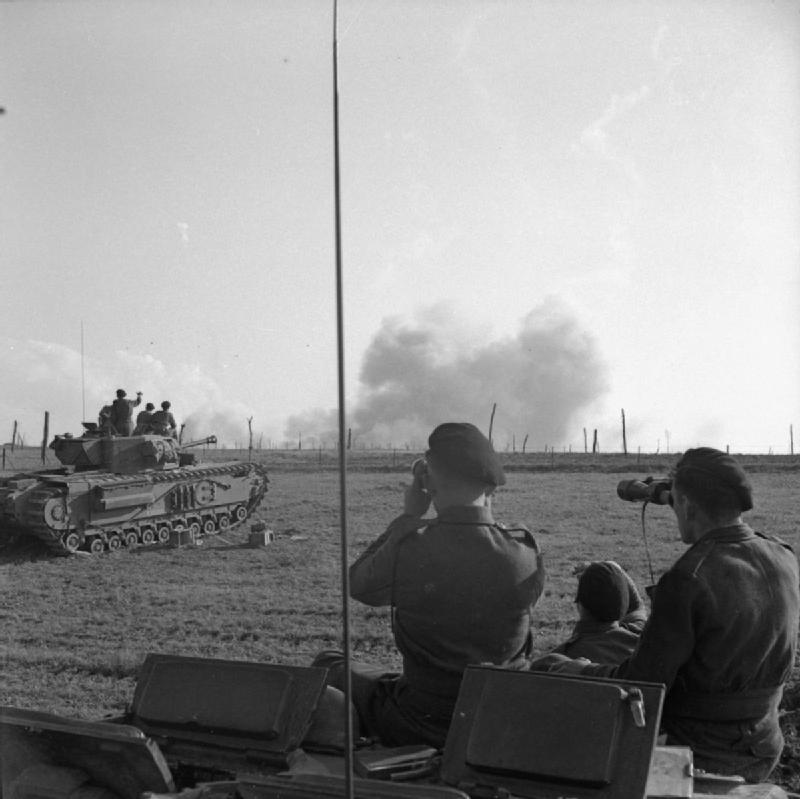 The 49th Division would then attack Le Havre alongside the highly experienced 51st (Highland) Division ("Operation Astonia"). On September 12, 1944, the city and its port are liberated after only three days of assault, at the cost of minor losses. On the other hand, Allied bombardments, although greatly facilitating operations, destroyed more than 15,000 buildings and killed thousands of civilians (on the right, British tankers are looking at the Royal Air Force bombing the port). Nigel writes on September 17: "Well, to review the past 10 days will not be much. We have been very easy, except for a hectic 72 hours when in that few hours we perhaps won one of the best victories in France so far, inflicting the loss of some 13,000 against our loss of under 400 killed and wounded. When I say best victories I mean in comparison of casualties. Our general is to be thanked for the wonderful way everything worked, but that has been told on the BBC enought already. My battery was not needed in it's own role, so I reported to the APM with 4 other officers of mine and 80 men, to help wherever we might be wanted. Well, we had a most interesting 3 days. Most of the men handled refugees and prisoners, and it got out of hand a bit at one time, because I had so many I could not deal with them. At one minute I found myself and 10 men marching 37 officers and 850 men down the road to the PW cage. Well, I was at the front, then at the rear I had 2 of my men, and the others came along on either side, but there must have been 300 prisoners between each pair of British soldiers. The Germans started to lag a bit, so I got a German warrant officer to roust them along, and he did it very well. There were several amusing little moments. Another time I had 7 German officers in my jeep with only the driver as escort. It sounds very risky but it's not. These Germans fear the French far more than any of us, and on the following day when we were going to bury some German dead I had a German padre with me at the German cemetery and I said "Well, I will go back and fetch the dead and people to dig the graves", he had better wait in the cemetery, and he said; "No, no, not along, the French". So I said "What do you mean?", so his reply, "Leave a man with me please", so I left my driver to guard him against the French, not to see he did not run away. Another time one of my Sgts said to a bunch of Huns "Follow me down the road". There were about 20 of them, and they said "No, you can't take us alone". So he said "Why not?", their answer, "You cannot guard us against the French alone". That's the Master Race for you, when they are beat.

After those three days we moved to this little village to rest and wait for orders, which at this minute have not arrived, but we expect them anytime now. Where we shall go none of us know, but there is a lot of guessing, and one or two places hold hot favourite at the moment. Well, France is very nearly clear of the Boche, and what does the future hold for her? I am not too hopeful about the future. The local power seems everywhere to have shifted in the hands of the FFI [French Forces of the Interior] who are the biggest bunch of toughs it has ever been my pleasure to meet. What party will rule I should hate to guess, but I fear there are stormy days ahead, unless she can pull a strong man out of the bag quickly. My own personal feeling is Koenig could do it, but I doubt if De Gaulle can. I hope I am wrong. [...] If ever care to write a book I feel I could write quite an interesting one now, but I can't, so I shall enjoy in future pulling other people's books to pieces that will be written about this war that is fast drawing to a close. God give us the weather and the luck, and it will be over before many think.".
However, the war is far from over. The 49th Division will soon head for the Netherlands, where it will capture Turnhout, Tilburg, Breda, Breda, Roosendaal (in bloody battles), and finally the famous city of Arnhem in April 1945 (where English paratroopers suffered terrible losses when Operation Market Garden failed in September 1944). Nigel will then join the occupation army, before returning home to Somerset at the end of 1945. He will be awarded the Territorial Decoration (T.D.) the same year. After the war, he will have three children with his wife Marjorie Caroline Innes, live as a banker and a farmer, and pass away on 29 January 1987 at High Ham, Langport (Somerset).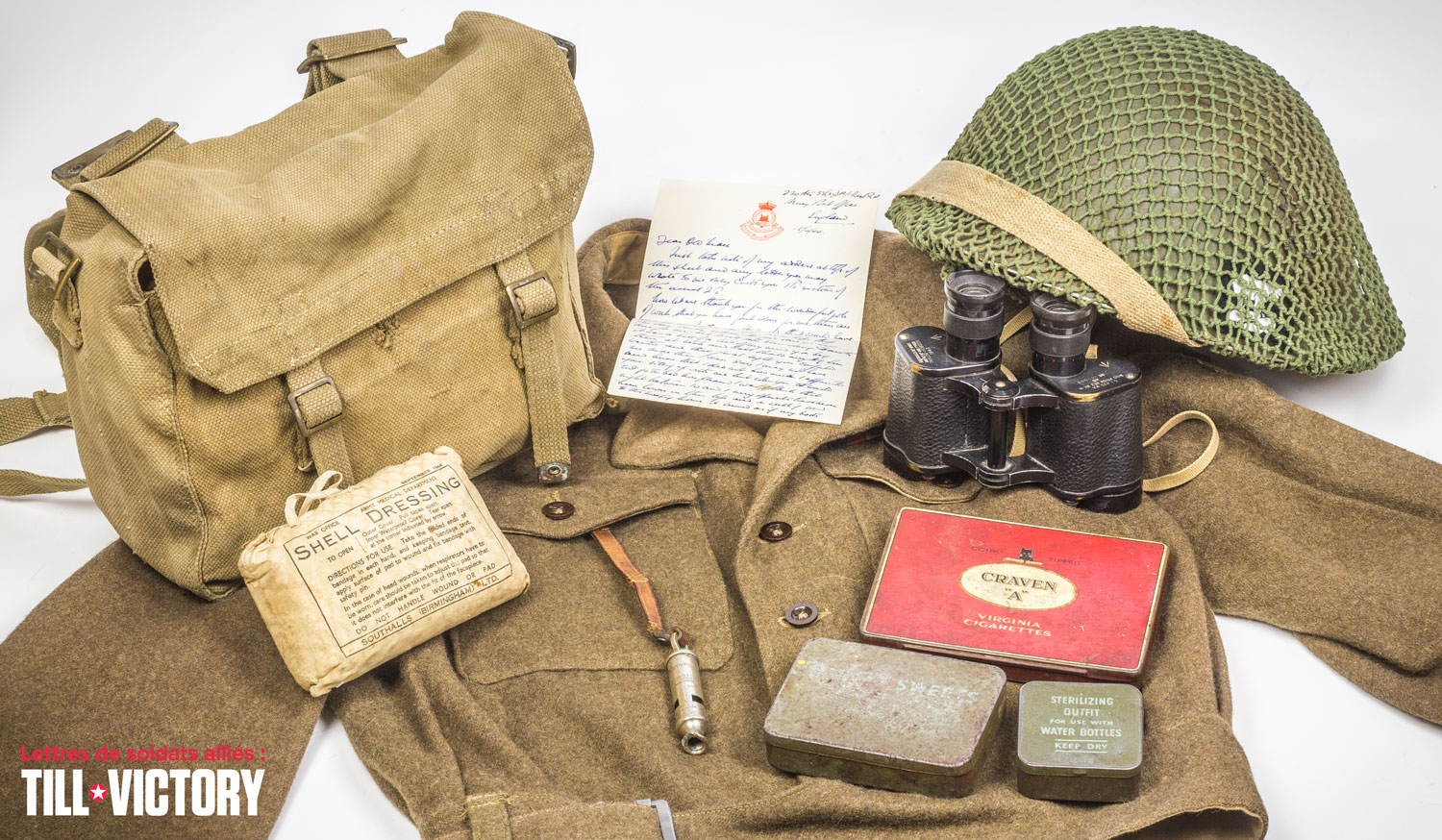 Above, an illustration of the equipment Nigel wore in Normandy: on a wool Battledress jacket rests an MkIII helmet (also known as a "turtle helmet"), a pair of binoculars, a letter written by Nigel shortly before the landing, a "Small Pack" (haversack for combat), an emergency bandage or "Shell Dressing", a whistle, a cigarette box, ration candies and a water decontamination kit (author's collection).